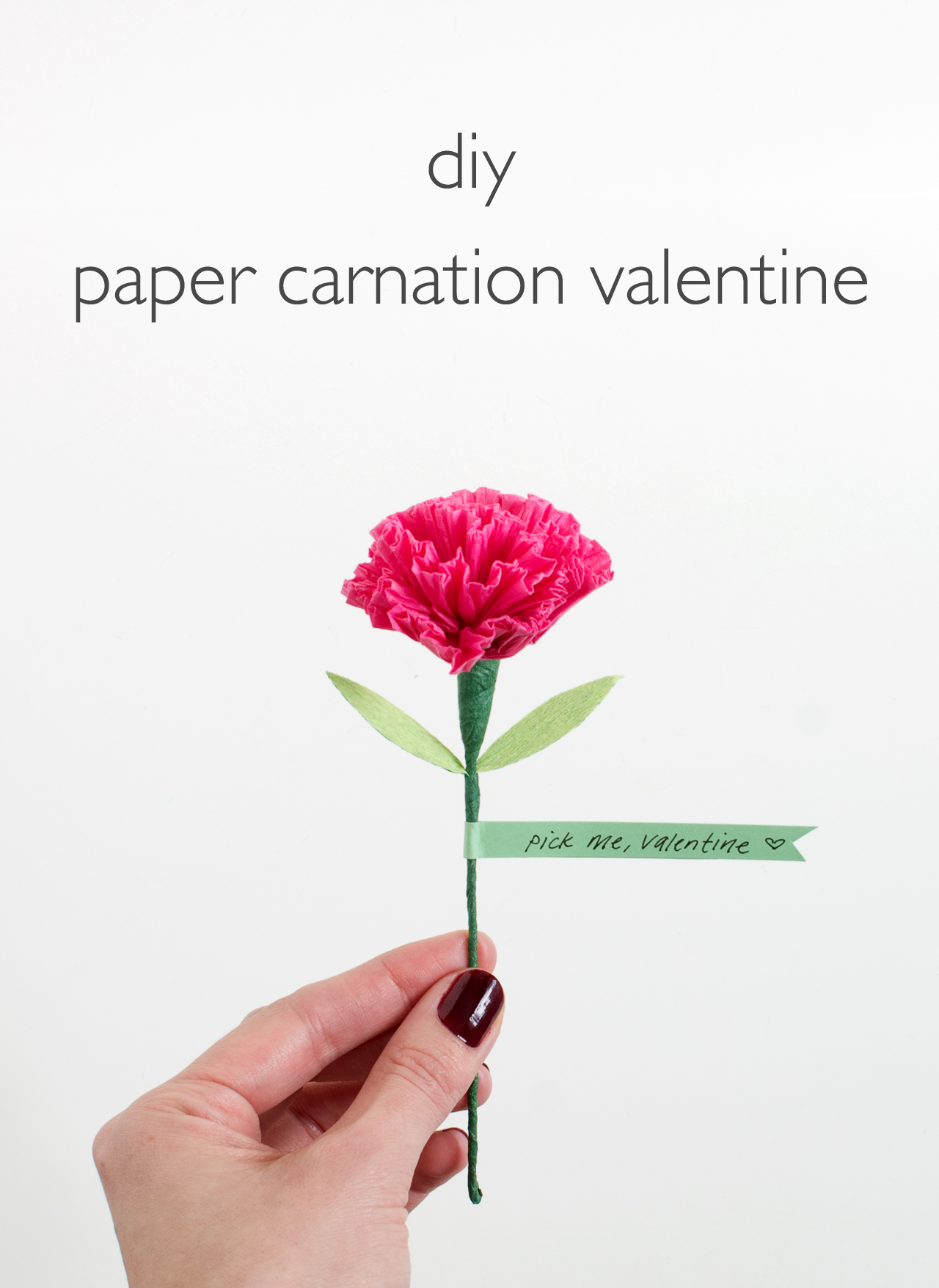 I couldn't let Valentine's Day season pass by without coming up with some sort of paper flower project! Enter the sweet, reliable carnation. You can always find bunches of them in the grocery store in every shade, they're super inexpensive, and they last forever. Carrie Bradshaw did say that carnations were making a comeback! (Nevermind that she said that like 15 years ago...)
I love the look of this paper carnation since it has more dimension than single ply tissue flowers. The crinkly petals almost look real and they're easy and inexpensive to make. All pluses in my book! Add a sturdy stem and a sweet love note and you've got a unique valentine flower for your loved ones.
Here's what you'll need:
Tissue paper. One 10" square per flower
Green cardstock
Green crepe or tissue paper
Green floral tape
Floral wire, about 6" lengths
Pliers
Scissors
Paper glue
This
is the folded carnation design that I've adapted for this project. I've outlined the steps here with words and photos for clarity, but feel free to refer to the original for more info.
Fold the tissue square in half diagonally, and then again, and again. These steps create fan-like folds from the center of the tissue paper square. Continue folding in half until the paper is a narrow blade-like shape. Unfold. Gather the paper by the center and and crease downwards. Open the paper up and repeat multiple times. This step is creating very small vertical pleats in the paper. The more you open and re-crease the paper like this the more realistic folds the petals will have. Holding the paper horizontally with your right hand, pinch about 3/4" of the end and hold with your left hand. Flip the remaining paper back over your left hand, and crease around the fold you just made. Continue pinching about 1" of the paper and folding backwards until you have three rows of petals.
Twist the base and cut off the excess paper. Wrap with floral tape around the wire and the leaves.
Here's the fun part! Starting with the outside petal, carefully spread out the creases in the paper. Gather the flower in your hand as you go to fold the petals towards the center of the flower. Continue with the other two rows of petals.
Cut a narrow strip of cardstock and write a "pick me, valentine" on the right side. Add some paper glue to the left side and fold over the stem and secure.
So cute! I hope you give these sweet little flowery valentines a try! What do you think - are carnations still making a comeback?