Washi tape has been spreading through the crafting world for the past few years and it shows no sign of slowing down. If you're unfamiliar with the product, it's a lightweight paper tape that originated in Japan that comes in tons of great colors and patterns. Most of the tapes have a somewhat transparent finish so they're great for layering. Their coolest trait (I think) is the low-tack adhesive that leaves no residue behind. This means you can tape things up all over your walls with no fear of taking up the paint or having to clean up a sticky mess later. You could easily create a wallpaper design with the narrow tape, but it would be a fairly labor-intensive process. The manufacturers at
MT Casa
in Japan have taken this idea to the next level and have introduced a line of wide width washi tape rolls specifically for home decor applications! (photos from MT Casa website)
And thankfully, there are bloggers in Japan like
Hello Sandwich
who documented their visit to the
MT expo in 2011
.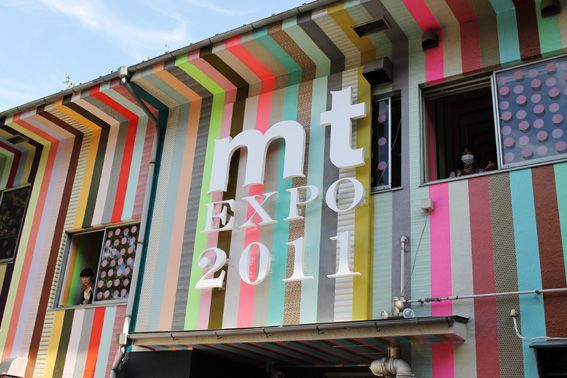 These photos show almost every surface covered in tape, but in the real world I can imagine these would be great to jazz-up drab cabinetry in a rental apartment. Or to make a colorful "backsplash" in the kitchen where there currently is none. I'd like to cut out retro-style metallic stars to tape up on my bedroom walls. Guess what else they had taped up at the expo...?
A classic Mini! So great! The van is cool, too, but you guys know I'm partial to the Minis. Here it is again again during a
tour of the MT factory
. So fun! (photos from Hello Sandwich)
MT announced these products back in 2011, but they just now seem to be showing up in shops in Europe, specifically at
Top Drawer
in London. I haven't yet heard of when these wider-width tapes will be released in the U.S., but it's just a matter of time. I can't think of a bunch of projects I'd like to try with it. My little hallway could use some color.
If you're looking for where you can buy the narrow widths online, check Etsy. I've purchased tape from
this seller
before with great success.