Happy November! I hope your Halloween was filled with lots of treats and not so many tricks. I spent the evening with friends and family passing out candy, listening to spooky Halloween music, and watching The Lost Boys on DVD (yay for crazy Santa Cruz!). Now that it's November, Christmas is fast approaching but I refuse to let the Fall/Thanksgiving season pass me by. I wanted to share this pumpkin painting project I did after my trip to the pumpkin patch. I'm glad that once I put away the bats and skeletons around my house I can still enjoy my pretty pumpkins until Thanksgiving.
Inspired by this photo from Martha Stewart Living, I was determined to find a light-colored pumpkin to paint a wood grain texture. The beetle and spider web ones are pretty cool, too but I was really attracted to the graphic nature of the wood grain.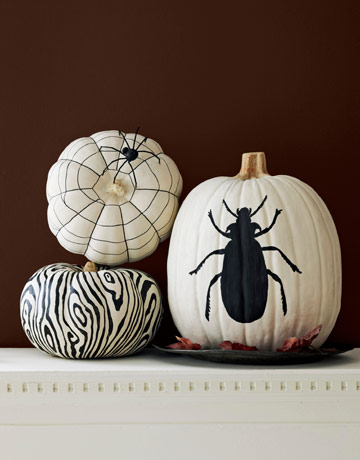 Photo from MS Living
So I picked out a pumpkin that was dying to be painted. Here's a progress shot.
I used black craft paint. I just started at the stem and made my way down to the underside, painting wiggly, irregular lines and knotholes.
And here it is all finished, paired with some of the pumpkins from the patch! You may be able to see a little bit of shimmer in there because I added gold stripe accents to the black design. I also painted the stem gold! I'm hoping this pumpkin lasts until Thanksgiving.
Today is also Dia de los Muertos! I have a fun little project to share with you later.